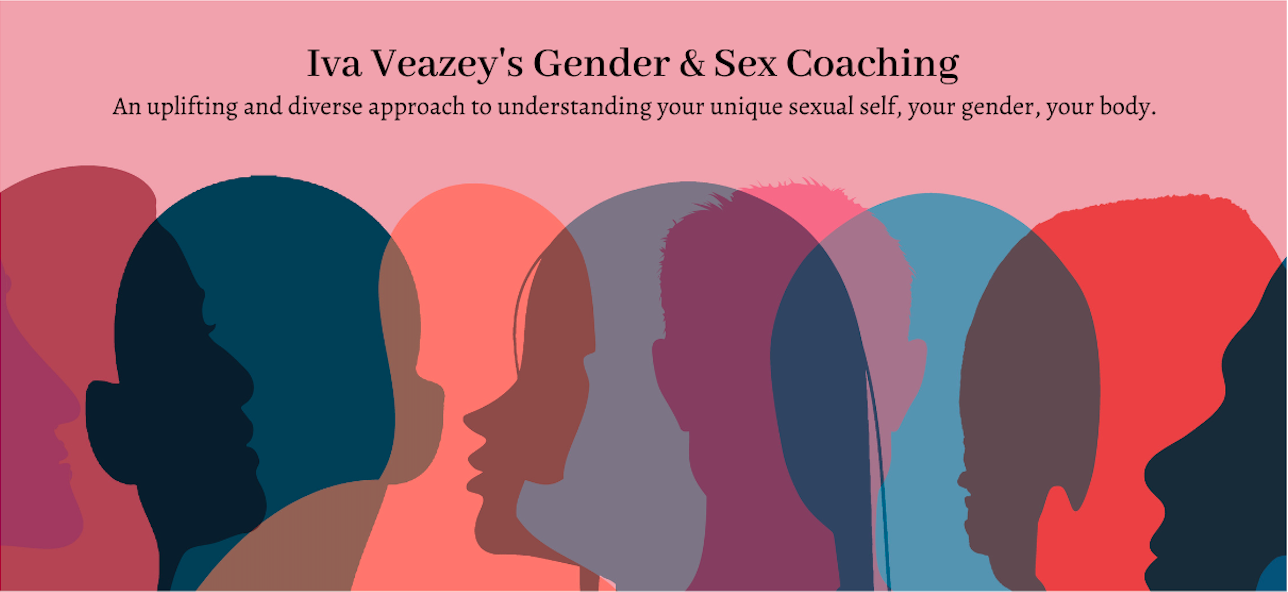 IVA VEAZEY'S GENDER & SEX COACHING
WHAT IS GENDER, SEXUALITY DIVERSITY COACHING?
People ask this question quite a bit!
In short, it's a coaching approach for learning more about your gender, sexuality, desires, relationship needs, and issues around sex. It's about identifying your goals and desires in these areas…and learning how to celebrate AND fulfill those desires.
For example:
Are you struggling with coming out as lesbian, gay, bisexual, trans or asexual?
Do you NOT want to be placed into a gender box? You feel fluid, ever-changing and unique and just need some support to live unapologetically?
Do you need support navigating your sexuality (newfound turn ons and OFFs!), now that you've stepped into your true gender expression?
Do you need help finding the right resources to explore the right Hormone Replacement Therapy (HRT) for you—from someone who's wise, compassionate, and been-there-done-that?
AND/OR,
Are you becoming more conscious of how you desire to structure your romantic/sexual relationships in the FIRST place—whether that means more conscious monogamy or some degree of openness, polyamory, or anything in between!—and you now need help communicating and navigating this with everyone involved?
MANY OF US NEED ASSISTANCE TO STEP INTO OUR PERSONAL TRUTHS
Being outside the norm can be challenging, invigorating and downright terrifying. How DO you find permission to speak or act authentically? How IS that done safely, consensually and with inspiration?
It's no wonder why you might be feeling this way: society, religion and school environments can often take us away from our true selves through rigid expectations.
However, despite these obstacles and expectations that are baked into our mainstream culture, you CAN create a fulfilling life, which includes your OWN choices around your sexuality, gender expression and relationship dynamics.
And the best part? When folx figure out these key pieces of their most intimate lives, THAT's when they're able to shine their brightest light and offer their greatest gifts to the world!
DO YOU NEED SUPPORT?
With compassion and care, I offer that assistance to those who want to transform their lives.
With over five years' experience as a Certified Sex Coach and Certified Sexologist, I've been helping folx build strategies to find balance and acceptance within themselves and the confidence to live out loud, passionately and unapologetically.
NEXT STEP
Book an appointment for your free Discovery Call and find out if  Sex & Gender Coaching is right for you and if we're a fit!
"The highest task life sets for us is to realize ourselves. Retreating from your life out of fear or a desire to remain comfortable means denying yourself" Gerd Ziegler
For more information, check out my blog post on WHAT IS SEX COACHING!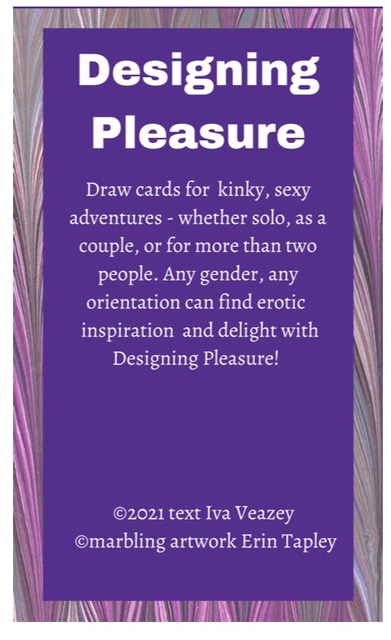 $27.95 + $10. shipping fee, US only. Email for International Rates
Designing Pleasure Playing Cards
This Deck includes 47 pleasure cards for putting together very intentional plans for intimacy and sexy adventures. There are 6 instructional cards, so you'll have some ideas for ways to play with them. Or you can create your own rules.
A fun way to enhance pleasure with 47 different cards/47 different suggestions

Boosts communication skills

Multiple ways to play

Can be used solo, for couples or in poly erotic adventures

Encourages consensual interaction

Offers ideas for kinky scenes